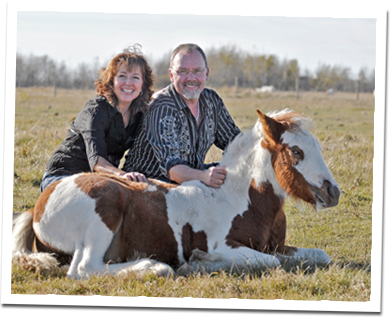 About Us
Our love for horses spans a lifetime and our commitment to breeding the best of the breed is obvious from our chosen breeding stock. We have literally searched the world and brought some of the finest examples of Gypsy Cobs right here to Canada. One of the more famous representations of this breed is one of our stunning stallions… the one and only "ClononeenTumbleweed", known the world over as the "Sire of Sires. He is without a doubt one of the top stallions alive in the world today.
Starting from the very first 6 horses we imported from England our philosophy has been simple and consistent...start with legends and build from there.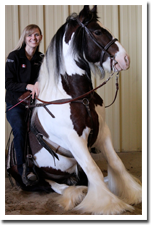 Jackie Johnson, Trick Trainer extraordinaire of Stunthorse.com, is also helping us out by continuing her work with North Fork Cash (whom she is now part owner of). We are excited to continue our partnership with Jackie, as she has worked so hard to promote the breed with us, and will continue to do so in new and exciting ways in the future.